Project title: ICT Competence Network for Innovative Services for Persons with Complex Communication Needs
Project value: 767.275,08 EUR (549.752,59 EUR financed by the EU)
Duration: March 2013 - March 2015 

The project is aimed at the high value-added sector of Information and Communication Technology (ICT)
with the focus on transferring the know-how on development of ICT-based alternative and augmentative communication (AAC) targeted for persons with complex communication needs (CCN) from participating higher education institutions (HEIs – i.e., the consortium consisting of four constituents of the University of Zagreb: Faculty of Electrical Engineering and Computing, Faculty of Graphic Arts , Faculty of Education and Rehabilitation Sciences and Faculty of Humanities and Social Sciences to knowledge-based small and medium enterprises (SMEs – e.g., social networking software development, human computer interface software and/or hardware development and software distributors). Consequently, identified SMEs will have the knowledge to develop, customize, and maintain ICT-based AAC services to be used by caretakers or organizations for inclusion of persons with CCN (i.e., inclusive preschools, primary and secondary educational institutions, social welfare institutions, specialized hospitals, polyclinics and specialized day-care centres).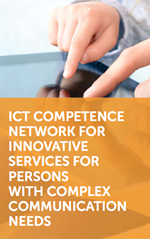 Persons with CCN are individuals who are unable to use speech as their primary method of communication. While reasons for CCN differ widely, such as due to physical and/or intellectual impairment, Down Syndrome, or Autistic Spectrum Disease, AAC methods based on the use of graphic and textual symbols (rather than written words alone) to represent certain objects, actions, or concepts, have been proven as highly beneficial (and in certain cases critical) for improving speech, literacy, learning, employment, and quality of life for persons with CCN. In the context of the project, ICT-based AAC services refer to services utilizing specific know-how on symbol-based human-to-human and human-to-machine communication in a computer and networking environment. Examples of ICT-based AAC services include means for communication (constructing sentences/phrases, sending e-mails, surfing the web, participating in social networks), learning and entertainment.
For more information please take a look at our project leaflet and brochure (both in Croatian).