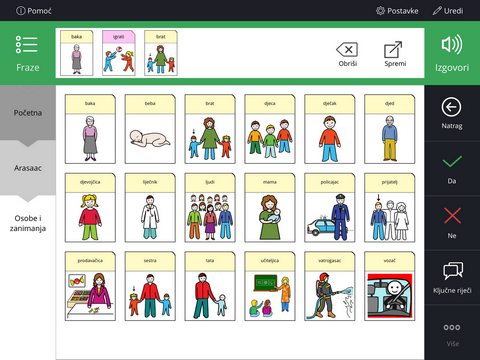 Sometimes communication and language development in children does not flow quite smoothly due to various causes (e.g. autistic spectrum disorders, motor disabilities, childhood speech apraxia). In an adult population, communication may be disrupted due to various reasons such as stroke consequences, traumatic brain damage, neurodegenerative conditions, etc. The ICT-AAC Communicator+ ("ICT-AAC Komunikator+" in Croatian) application ensures the transmission of more complex language messages such as phrases and sentences in Croatian language.
The application is intended for a wide range of users for the purpose of easier, faster and more efficient transmission of messages. It allows you to make phrases and sentences using existing symbols from three non-commercial galleries (ARAASAC, Mulberry and Sclera) but also using user's own symbols or photos. The phrase can be reproduced with the existing sounds of symbols or the pronunciation that the user has recorded. With the use of user's own photos and sounds, such an application can be tailored to the individual and contextual needs of users. 
The application is developed for Apple iOS operating system of version 6.0 or more. You can download it from App Store.
Detailed instructions for the application use can be downloaded from here (PDF document in Croatian).
The application poster (in Croatian) can be downloaded by clicking the image below.